December 22, 2021
Dr. Peter Bellwood, the winner of the 2021 International Cosmos Prize, will deliver the commemorative lecture (online) as follows
●agenda(251KB)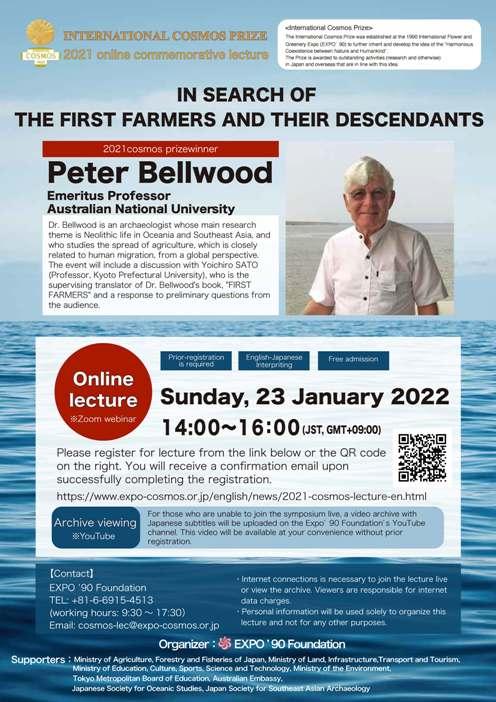 Date
14:00-16:00 (JST, GMT+09:00), Sunday,23 January, 2022
16:00-18:00 (AEDT, UTC+11:00), Sunday,23 January, 2022
Capacity
 500
Outline
Commemorative Lecture "IN SEARCH OF FIRST FARMERS AND THEIR DESCENDANTS"
Dr. Peter Bellwood(Emeritus Professor, Australian National University)
Dr. Bellwood's detail achievement page
Dialogue
Dr. Peter Bellwood (Emeritus Professor, Australian National University)
Dr. SATO Yoichiro
(Professor, Kyoto Prefectural University, Director, Museum of Natural and Environmental History, Shizuoka)
Question and answer session
Application
Please register this webinar registration page.
※Zoom Webinar Live
※Simultaneous Japanese/English interpretation available
※Data communication charges are the responsibility of the participant.
Others
※If you are using anti-spam measures or specifying a domain name, please change your settings so that you can receive messages from the email address "no-reply@zoom.us".
※After you have registered, please make sure that you have received a registration completion email at your registered email address.
※In some cases, the email may in your junk mail box. If you do not receive the email, please contact us.

For those who are unable to join the symposium live, a video archive with Japanese subtitles will be uploaded on the Expo' 90 Foundation's YouTube channel. This video will be available at your convenience without prior registration.
Organaizer
Expo '90 Foundation
Supporters
Ministry of Agriculture, Forestry and Fisheries of Japan,
Ministry of Land, Infrastructure,Transport and Tourism,
Ministry of Education, Culture, Sports, Science and Technology,
Ministry of the Environment, Tokyo Metropolitan Board of Eductaion,
Australian Embassy, Japanese Society for Oceanic Studies,
Japan Society for Southeast Asian Archaeology
Contact
Expo '90 Foundation
E-mail:cosmos-lec@expo-cosmos.or.jp
Please convert "@" to half-width and send us.