The Prizewinner 2007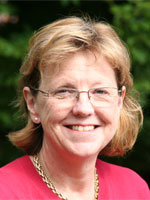 Name
Georgina M. Mace
Born on
8 December 1953
Nationality
British
Title
Director, NERC(Natural Environment Research Counci) Centre for Population Biology, Imperial College, London
http://www3.imperial.ac.uk/cpb
Reason for Awarding
Dr. Georgina Mace has contributed throughout her career to the conservation of global biodiversity.
Many species are now extinct and still more are on the verge of extinction due to the adverse effects of human activities. Dr. Mace formulated the Criteria for Listing Threatened Species in her role as chair of the Criteria Review Working Group, Species Survival Commission, International Union for the Conservation of Nature and Natural Resources (IUCN). She also played a leading role in the listing of endangered species as chair of IUCN's Red List Programme. The IUCN Red List, which was developed using the Criteria for Listing Threatened Species, is the most comprehensive inventory on the status of numerous species. This single system of assessment, which can be used internationally, has made the maintenance of global biodiversity a much easier proposition. For the implementation of the Washington Convention, which regulates international trade in endangered species of wild fauna and flora, Dr. Mace created a major part of the guidelines for customs inspectors by applying the IUCN Red List. The development of the IUCN Red List has raised public awareness and its underlying concept and principles have spread throughout the world. Now, many national and local governments as well as academic societies have their own red lists. International cooperation is vital today because the actions of one country can easily influence the biodiversity of another. Dr. Mace's outstanding research activities and achievements described above have helped establish a highly effective framework for international cooperation.
Following a call by the UN for an investigation into the global status of natural resources, the "Millennium Ecosystem Assessment (MA)" was conducted from 2002 through 2005. Dr. Mace, who played a central role in producing the MA report, warned that 12% of birds, one-fourth of mammals and one-third of amphibians were endangered, and that 10 to 20% of natural resources could be lost by 2050 given the ongoing scale of human activities.
Accelerated utilization of natural resources, which may produce, if anything, only short-term and localized profits, will not benefit the planet over the long term. This view is reflected in the target of "significant reduction by the year 2010 in the rate of biodiversity loss," which was agreed upon by representatives of 190 nations who gathered in Johannesburg for the World Summit on Sustainable Development 2002. Currently, Dr. Mace is hard at work on a variety of activities aimed at achieving the 2010 target, while partnering with other researchers to publish a series of theses on such topics as establishment of a method for evaluating biodiversity and the ecosystem services it provides, and changes in biodiversity that have been provisionally measured by the Red List Index.
Dr. Mace's global activities; her integrated and comprehensive approach which brings together biology, genetics, mathematical modeling, and policy; and her long-term vision to reduce the risk of extinction make her a worthy recipient of the International Cosmos Prize.
Education
| | |
| --- | --- |
| 1975 | Bachelor of Science (Zoology), Liverpool University |
| 1979 | Doctor of Philosophy (Biology, Evolutionary Ecology), University of Sussex |
Positions
1994 – 1999
NERC Advanced Research Fellow, Institute of Zoology,
Zoological Society of London
1999 – 2000
Senior Research Fellow, Institute of Zoology, Zoological Society of London
2000 – 2006
Director of Science and Head, Institute of Zoology,
Zoological Society of London
2006 -
Professor of Conservation Science and Director of NERC Centre for Population Biology, Imperial College, London
http://www3.imperial.ac.uk/cpb
Honors
| | |
| --- | --- |
| 1998 | OBE (Officer of the Order of the British Empire) |
| 2002 | Fellow of the Royal Society |
| 2004 | The Peter Scott Award for Conservation Merit |
| 2005 | Huxley Award |
| 2005 | Ulysses S. Seal Award for Innovation in Conservation |
| 2007 | CBE (Commander of the Order of the British Empire) |
Books
1994
"Creative Conservation - Interactive Management of Wild and Captive Animals for Conservation"
Chapman & Hall, London
1998
"Conservation in a Changing World"
Cambridge University Press, Cambridge
2001
"Conservation of Exploited Species"
Cambridge University Press, Cambridge