The Prizewinner 2004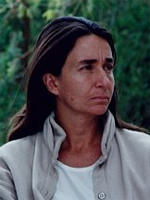 Name
Julia Carabias Lillo
Born on
14 August 1954
Nationality
United Mexican States
Title
Professor, Faculty of Sciences,
National Autonomous University of
Mexico (UNAM)
Reason for Awarding
Professor Julia Carabias Lillo was born in 1954 in Mexico City, Mexico. After studying biology at the National Autonomous University of Mexico (UNAM), she taught courses in environmental science at UNAM, while continuing her research into tropical forest regeneration, natural resource management and environmental conservation. In the meantime, she established her own basic research policy: "to always view issues and envisage the future from the perspective of developing nations."
To put such policy into practice, since the 1980s, she has actively addressed the difficult challenge of achieving both goals: development for people in poverty and natural resource conservation in developing nations.
In 1982, in response to a request from the Governor of Guerrero, which is said to be Mexico's poorest state and suffers from severe environmental destruction, she created and implemented a practical research program to help improve residents' standards of living, without exhausting natural resources. She worked in a team with economists and ecologists, taking a multidisciplinary approach to carry out this four-year program, which resulted in great success.
The success of the program attracted the attention of the President of Mexico, who asked her to develop programs to fulfill both development and natural resource conservation goals in four other states in the country. All of these programs produced excellent results.
In recognition of these achievements, the Mexican government appointed Ms. Carabias Minister for the Environment, Natural Resources and Fisheries; she served in that position for six years between 1994 and 2000.
She also served as a principal member of the Commission that published the report "For Earth's Sake" during the 1992 United Nations Conference of Environment and Development in Rio de Janeiro. She has striven to find solutions to challenging tasks, including striking a balance between development and environmental conservation, and increasing the interest of residents in local communities. As part of such efforts, she has actively proposed opinions from Southern perspectives at many global environmental forums, such as the United Nations Environmental Program (UNEP).
After completing her tenure as Minister in 2000, Julia Carabias returned to her post as President of the National Institute of Ecology, while holding a full-time professorship at UNAM. She remains active as a leading expert in the field of protection of the environment and nature in Mexico.
Professor Carabias has always considered global environmental issues from the perspective of developing countries, and has addressed challenging tasks by conducting thorough fieldwork with an integrated approach. She is among the pioneers who have paved the way, in both academic and practical terms, for the harmonious coexistence of nature and humankind in moving toward a better future for our planet. In view of the outstanding activities mentioned above, Professor Julia Carabias Lillo eminently deserves the International Cosmos Prize.
CURRICULUM VITAE
1977
Graduated from the Faculty of Sciences, the National Autonomous University of Mexico (UNAM)
1981
Completed the Graduate School of Sciences, UNAM
1984 - 1994
Lecturer, Associate Professor, Professor of the Faculty of Science,
UNAM
1994
President of the National Institute of Ecology of Mexico
1994 - 2000
Minister for the Environment, Natural Resources, and Fisheries
2001 -
Professor, the Faculty of Sciences, UNAM
2004
Established the training center for biodiversity in the Lacandon region in Chiapas
Honors
| | |
| --- | --- |
| 2001 | Getty Prize (World Wildlife Fund) |
Publications
1985
"Ecology and Alimentary Self-sufficiency"
("Ecologia y Autosuficiencia Alimentaria")
1989
"Rural Production in Mexico: Ecological Alternatives"
("La Puduccion Rural en Mexico: Alternativas Ecologicas")
1992
"For Earth's Sake"
1994
"Natural Resource Management and Rural Poverty"
("Manejo de recursos naturals y pobreza rural")